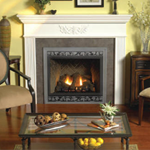 At Lundy Heating & Cooling and Jaymac Equipment we believe that you should know all your heating options available before investing in a system for your home, and fireplaces are one of those options. Our experts can install both wood and gas fireplaces which come in a variety of designs to best suit your home.
Lundy Heating and Cooling proudly carries:
Gas - Direct Vent
Napoleon's Direct Vent Gas Fireplaces do not require a chimney and can be vented directly through a wall or roof. The direct vent draws its combustion air from outside while venting to the same outside atmosphere - thereby not consuming warm house air, nor competing with other appliances and furnaces for combustion air. Direct venting also eliminates drafts and heat loss associated with other fireplaces.
Gas - Natural Vent

Napoleon's Natural Vent gas fireplaces take in combustion air from in the home and vents products of combustion outside the home. Also known as a "B-Vent", a single pipe or liner exhausts combustion by-products to outside the home.
Gas - Vent Free

With up to 30,000 BTU's, state-of-the-art vent free technology and a variety of options and accessories. Napoleon® vent free fireplaces are the ideal choice to bring style and warmth to your home! Zero clearance design allows ease of installation almost anywhere. Please check you local codes regarding vent free products.
Electric

Napoleon® Electric Fireplaces reflect the look of traditional masonry fireplaces but with all the convenience of electric. Just plug it in, sit back and relax! It is safe and installs in minutes, creating endless design possibilities for any room.
Wood Burning

No other hearth manufacturer in North America has perfected the art of wood to the level that Napoleon® has. Years of research, strict quality testing and patented wood burning technology have surpassed critical standards, providing you with the cleanest, most efficient wood burning products. Napoleon's wood burning fireplaces exceed EPA (Environmental Protection Agency) standards substantially making a difference in keeping our environment clean.