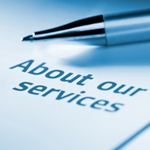 Heating and cooling systems have a way of breaking down when the weather is at its worst; on the coldest day of a frigid winter, or during a sizzling summer heat wave; times when your comfort system must work the hardest, and when you need it most.
Regular check-ups will help to maximize the life expectancy of your system; unfortunately, even the best maintenance won't prevent normal wear and tear.
Please contact us to discuss our service agreements in more detail. We will recommend a program that best fits your needs.
Lower Energy Costs
Equipment lasts longer
Improved Capacity
15% Discount on Heating & A/C repairs
Priority Customer Service
Emergency Service (24 Hr.) No overtime before 8pm
Identify warranty claims prior to expiration
15% discount on duct cleaning
15% discount on all accessories
Fewer repairs / Avoid unexpected breakdowns
Peace of Mind – Guarding your comfort needs throughout the year